Has Europe lost its hold on our collective imagination? - Fintan O'Toole
Monday, 06 July 2015 13:17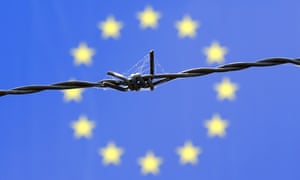 When I was a teenager in Dublin in the early 1970s, the phrase "We're into Europe!" gained a peculiar currency. It was half-jokey but not really sardonic. You used it for good things that promised even better things – when a girl you fancied smiled at you or your team scored the first goal.
Top gear for Honda exports as British-built hatchback to be shipped from Swindon back to Japan

Monday, 06 July 2015 11:15

Honda's hottest hatchback is to be exported from its UK factory in Swindon back to Japan.

The shipping of the new British-built Honda Civic Type R to Japanese customers is seen as a huge vote of confidence in the factory and Britain's economy.

Last Updated (Monday, 06 July 2015 11:19)

EU 'must rebuild fish stocks'

Monday, 06 July 2015 11:41

Press Association - Almost half the fish consumed in the EU came from non-EU waters in 2014, a study shows

Europe is consuming more fish than its waters can provide, leaving it reliant on other parts of the world to supply almost half its seafood, a study has found.

Would Greek exit help or hurt Europe's currency union?

Sunday, 05 July 2015 13:22

FRANKFURT, Germany (AP) — With aid negotiations off and ATMs running out of money, it's not speculation any more. Greece could leave the euro. And soon.

260,000 Austrians sign petition to exit EU, forcing parliament referendum debate

Saturday, 04 July 2015 15:20

Over 260,000 Austrians have signed a petition calling for the EU exit for the country, and now the Austrian parliament must discuss a referendum on the issue.

£465m EU fund misses jobs targets in Cornwall

Saturday, 04 July 2015 00:42

A "damning" report has found millions of pounds of European Union funding failed to create an expected 10,000 new jobs in Cornwall.

Calais and Greece PROVE European Union project is doomed, condemns LEO MCKINSTRY

Friday, 03 July 2015 23:39

THE EUROPEAN Union likes to trumpet its devotion to freedom of movement but thanks to the disastrous policies of Brussels, there has been precious little free movement around the Channel ports in recent days.
We have 330 guests online
LATEST NEWS